Welcome To The 

Mixtape Marketing Podcast.

 
Here you will learn tips and tricks to help you promote your mixtapes online.
Also I carry out interviews with online music marketing experts so
that you can learn music marketing from the pro's too.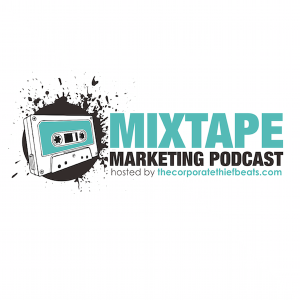 [sociallocker id="1272″] Download FREE Hip Hop Beat [/sociallocker]
If You Like The Show Be Sure To Subscribe The Podcast

If you feel that you have learned some tips on how to promote your mixtapes from the show be sure to subscribe. 
If you think that podcast has influenced you and you think it would benefit others, please leave a review on Itunes. Click Here
This make it easier for the show to be discovered on Itunes and other people will find it and also learn how to promote their music too.
If you do leave an honest review I will send you my hip hop blogs cheat sheet list as a token of my appreciation.
It would make it easier for others to find my Hip Hop Mixtape Marketing Podcast on Itunes. 



About The Mixtape Marketing Podcast and The Corporatethief Beats
The idea for the podcast came about about a year ago when
I released that I could reach more people with audio over my written blog posts.
I decided to make this Hip Hop Mixtape Marketing Podcast.
With the podcast I could add it to many audio podcast sites ,
like Itunes , Soundcloud , Sticher , Podomatic ect. This was much less time consuming over writing
the same article many times and adding the articles to other similar hip hop sites.
Plus I feel that I build a better connection with my audience with the podcast over the blog.
I have written a lot of blog post over the last year and I feel it's un just for me and
for my audience if I can't present it different formats.
The podcast can get my mixtape marketing tips in the ears of my audience in a much more efficient way.
It's easier to manage as rap artist that listen to the mixtape marketing podcast can carry it around it their phone.
I feel that I am more comfortable with creating audio based content than written blog posts.
Check Out Our Newest Rap Beats

Hip Hop Beat Packs
The Classic Beat Pack : Lately I have discovered that rap artist's like to create many mixtapes with one producers hip hop beats. I have created beat packs of my beats so that the rappers that visit my website can purchase beat packs at a low investment cost. The Classic Beat Pack consist's of 50 MP3 Rap Beat leases. The best vary from all different genres from trap beats , new school beats , sample beats and pop beats. This beat pack comes with the lease rights to all 50 rap beats , instant download , tag free and 100% Royalty Free. You can use these beats in your mixtapes, albums, live performance . Also you can sell your songs on Itunes , CDBaby , Amazon , Tunecore , Spotify  100% Royalty Free.

The Premium Beat Pack : This beat pack includes the same 50 beats that are in the Classic Beat Pack but are the Higher Quality Wav Files. This beat pack is more suited to some one that wants that extra quality and wants a more professional approach to the music. This beat pack also comes with , lease rights to all 50 beats ,  instant download , more distribution rights , tag free, and 100% royalty free. You can use the beats for mixtapes , live performance , albums , singles , videos and podcast. Also you can sell your music on distribution sites like ,Itunes , CDBaby , Amazon , Tunecore , Spotify 100% Royalty Free.
Artist Resources
Blue Host:  I always recommend Blue Host when people ask me what website hosting do I used to host my websites. I have been a BlueHost customer for the last 4 years and I have never had a problem. There customer support for website hosting is very professional. The stylish interface and quick wordpress install has made it so easy for users to set up a website today. Also I have created a video tutorial how I set up website in less than 15 minutes using  blue host. Click Here to watch this tutorial.
Mythemeshop : The wordpress theme behind this website www.thecorporatethiefbeats.com is called the splash theme created by Mythemeshop. They create wordpress themes. And their tons to choose from at very affordable prices. Using a pre-made theme from mythemeshop will save you on a wordpress specific design when you start of with your website. Paying a designer can cost alot of money , but when you use a pre made wordpress theme for your website you can install it instantly and have your site up and running in less than 20 minutes. For more information about mythemeshop check out my video review here..

Aweber: I have been using Aweber for the last 4 years. I use Aweber to manage my fan email newsletters. This enables people to subscribe to my website. Once subscribed to my email list I can keep my fans and subscribers in touch with new blog posts I write and new hip hop beats I make. Having an email list is crucial for your success as musician online. As the reach limit on sites like Facebook and Twitter continues to decrease email is bar far the most effective way to keep in touch with fans. Check out my Aweber Tutorial Here.
Lyricist Guide Ebook : If you find that you are struggling with writers block. Can't find why you can express yourself even though you know that you have a great storey to tell. Then you should definitely check out the rap Lyricist Guide Ebook. This book will condition your mindset so that you will over come writers block. Also the book brings you back to a foundation level for building up the essential skills you need to write the perfect rap verses. Not only just for beginners , the book also has an advanced section where you can learn to improve your vocabulary , flow and delivery. Using specific examples from well know hip hop songs to help you visualise what the pro's have done.