Dan here with The Corporatethief Beats Just giving you brief insight into the mythemeshop review. Where I discuss where I got the WordPress theme for my website. A lot of people are asking where I got my theme for my WordPress.The theme that I am using for my WordPress is from MyThemeShop. It is a WordPress website. I consider it a cool site since there are tons of themes to choose from.

Since there are a lot of online theme shops nowadays, you probably find it hard to select the best service provider that can answer your needs. In order to help you decide whether MyThemeShop is best for you or not, here is my review based on my personal experience.
MyThemeShop Review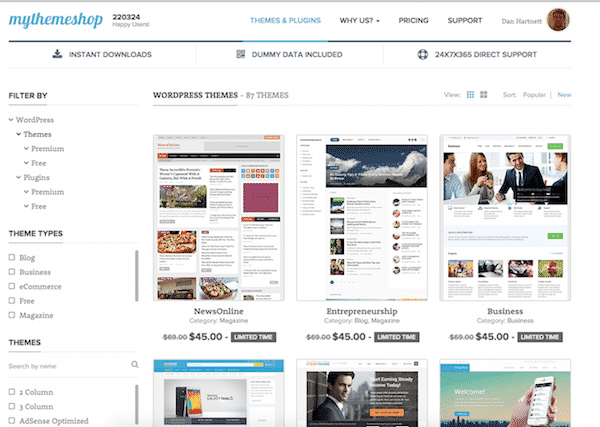 MyThemeShop is a website that produces WordPress themes and plugins that can be purchased individually or all in one package. It takes pride of their great value WordPress themes, with a focus on clean and clear designs, increased ad revenues, SEO-friendly code and fast loading times.


As a matter of fact, they have the fastest loading WordPress themes online along with other theme shops. One of the best things about MyThemeShop is the fact that their themes are 100% fluid responsive. This means that your website will look great on tablets and mobile devices. In other words, it will offer a wonderful user experience to everyone.
Why Opt For A Mobile-Optimized Site?
The theme that I am using is the Splash theme from MyThemeShop. I just found that it really fits my site. Before, my site was just a beat site and not yet developed as a blog site. Plus, it was not yet mobile-optimized. The themes offered by MyThemeShop are suitable for beat makers, e-Commerce, magazines, business, and shops.
How My Site Looks On A Mobile Device 
As I mentioned earlier, every theme you can purchase from the site is fully responsive and mobile-ready. But, why opt for a mobile-optimized Wordpress site?
Remember that nowadays, mobile is huge. It has helped my website a lot.
In fact, I have noticed that nearly 60 per cent of my site's traffic is mobile. Right now, my site is more of blog-focused. I use my blog as a vehicle in promoting my music, aside from creating beats all the time.

What I Like About MyThemeShop
MyThemeShop has helped me find the best theme for my site. I love the Splash theme because it makes my site look clean. It is truly a clean blog template for my site. With this theme, I can highlight the blog content on my website – articles here and there.
As you browse the selection of themes, the prices are different from another. Yet, they are all mobile-optimized. Keep in mind that it is very important to have a mobile-friendly site so that your visitors or followers will have the best possible experience on your website.
As a result, they are more likely to download your mixtape.
Moreover, what I like about MyThemeShop is that I can modify everything with ease. I can hide the sidebar, create pages, put in plugins, etc. Plus, it looks really great on mobile phones.
Also, I love the fact that they have a very good and active community on their forum, where you can get fast responses when you are in need of a quick fix. 

What Website Owners Should Remember

One of the most important things you need to remember is to have a mobile-optimized site. Remember that the Internet is evolving. Nowadays, users are able to access the internet with the use of their tablets, watches, gaming devices, and mobile devices. It is, therefore, important to opt for a mobile-optimized website.
It is considered a popular way of allowing your visitors or followers to visit your site with ease. Needless to say, having a mobile-friendly website is extremely essential to your business.

If you want to purchase a theme from MyThemeShop, remember to choose the best one for your site. When I was setting up my website, I did not understand everything. The good thing is, once you purchase a theme from MyThemeShop, you can get a free membership into their forums. There, a lot of knowledgeable people can help you with any issues that you have.
I definitely recommend MyThemeShop. There are a lot of great themes you can purchase, not to mention the benefits you can get. I really hope you create a really cool WordPress site. I hope you enjoyed the mythemeshop review and that you also watched the video above which explain more clearly why I opted for mythemeshop as my WordPress theme.