Download Podcast Episode #15 
Pat Parra Links
Site: Freestylerapsforall.com
Services: Freestyle Rap Courses Music Marketing, Rap Features
Follow Pat Parra On Youtube: Subscribe Here
Podcast:| Download |
Subscribe: iTunes | Android | RSS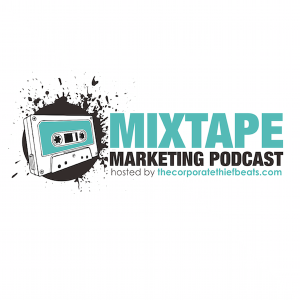 Hey, guys, it's Dan here from the Mixtape Marketing Podcast a.k.a The Corporatethief Beats. And I got a very special guest for you in Mixtape Marketing Podcast episode 15.
His name is Pat Parra from the website called Freestylerapsforall.com. And he's here to talk about how he teaches kids and other rappers how to freestyle professionally. Thanks for coming today, Pat. Maybe you could give everyone a brief introduction of yourself before we go to the actual part of the podcast.
Pat Para: I learned how to freestyle rap in high school when I was 16. That got me into making music. Freestyle rapping kinda got me into expressing myself, recording music with my brother. My brother used to play the piano. I started making rock songs and freestyle singing songs. I was just having the fun of it. That's how I got into making music.
QUESTION: What inspired you to teach freestyle rapping?
"I never thought about teaching. My friend in high school taught me about the 2 golden rules in freestyle rapping. When you just starting out, don't worry about the rhyming. Remove all the judgment and just go. He helped me out. Through that, I started freestyle rapping. When I started, I kinda sound horrible. Through the years, I practised and I kinda felt I got better."
"In college, a girl asked me how to freestyle rap. I was thinking of telling her the 2 golden rules of freestyle rapping, but I taught her some moves. And when she learned it, she could not stop and she did way better than I did when I was just starting. Then I realized, the steps I taught her helped her a lot.
It was then I realized I should do a course and teach people how to do it. I was teaching those steps in front of other people like friends. My mom is a music teacher and then she helped me. Freestyle rapping has got me into a creative flow. Because it's important to me, so I started teaching it."
QUESTION: Most people fear writer's block, how do you overcome instances wherein you can't write music?
I would write songs when I feel like it. All my stuff are pretty many problems with girls and the girl is not liking me. For me, it's kinda emotional based. I don't think there's a right way of doing it. I get into writing when I'm feeling it.
There's also a time when you are with friends and you want to rap together. And during those times, freestyle rapping can allow yourself to come up with anything. It just comes. There's always those humps in songwriting and rappers writer's block. I first come up with the first few lines that I really like. And I tell myself that I really need to finish this song.
QUESTION: Does freestyle rapping make you more creative?
There is definitely immediate energy that comes to you or you seem to don't know where it comes from. I've heard from a lot of people and they have creative ideas. When people open up themselves to that, ideas start coming. For me, the beats kinda lubricate the air. You just have to trust the beat. The beat will tell you how to flow.
The beat will tell you what to do. It's your job to make yourself receptive to that whenever you can. That's why a lot of rappers smoke or drink because it kinda gets them to relax. But you don't have to do that. If you are comfortable freestyle rapping, then you're comfortable being relaxed and being receptive to your surroundings. The music and the beats inspire the lyrics.
QUESTION: I looked at your biography, you said you released 5 independent albums. Could you tell us how you started out with the first album and what did you do to promote it? What mistakes and lessons have you learned from releasing those albums?
My first album was called Stages. I had a lot of mistakes with it but I had a lot of fun with it. It was kinda of a collection of all freestyle raps songs I did. Other songs were written by friends.
There were rap singing songs and beatbox songs. A bunch of random stuff. I spent $4000 for 1,000 copies I produced for my first album. I did that without any music marketing plan. I had physical copies and digital downloads too. For me, it was fun. I had no music videos for it, but it was a fun album to make.
For the next albums, I kept it all digital downloads 'coz it was way cheaper. Nowadays, you don't really have to have physical copies especially if you're just starting out. I think it's cool to do. But if you're touring, it's good to have physical copies. For my 5th album, I had music videos with the help of my brother. The videos helped me a lot.
QUESTION: You said that you had music videos, how did you promote those videos?
Usually, Facebook is the marketing that I've done. In my next album, I'm trying to do it like a stray hip-hop album. I studied internet music marketing, so in my next album, I already know a lot more. The best thing to do is to create video content. Videos are the easiest to share on Facebook. Now, Facebook videos are going so viral.
QUESTION: What do you think of the music marketing show?
You're teaching people how to market and stuff giving out free rap beats. I've seen a lot of rappers doing it. They have a YouTube channel where they post their music videos. And then they have another channel where they post music tips. I think that's really smart.
I think creating music reviews is cool. Creating music reviews are powerful, allowing your audience to get to know you. When I was starting, I said I'm just gonna talk about myself.
I'm not gonna talk about anybody else and hopefully, my friends will spread it around. But nowadays with social media, people really wanna get to know about people. They wanna know everything.
QUESTION: Let's say an artist creates a video today, what advice would you give them?
First thing, before uploading it, r other people involved having a "second eye". Pick the highest quality video you can afford. People nowadays like high quality. Do your best to make the highest quality videos you can get. Have a strategy. If it looks cheap, has bad quality or poor lighting, it can affect your image. Make sure everything looks good.
QUESTION: Can you tell everyone about your course on freestyle rapping?
The course started out as an ebook. It comes with 4 steps. It developed into a course. It starts with the things you need to know about rap and ending with the steps on how to be a professional rapper. I have it on my site here Freestylerapsforall.com. There's a part where you will be taught how to rap like your favourite rapper and how to steal their style. There's also a part where I write a rap live. I really like the course and I just wanna share it with people.