There are tons of beat makers out their with fake Facebook likes and it so easy to see. Beat makers with 10,000 likes and ZERO engagement.
I have added Facebook like buttons in all different areas of my websites, and I have never had the engagement levels like that I have on my thank you page on any other page of the site.
---
---
---
---
How a thank you page can increase your Facebook likes
Once you have your beat website set up an ready you need to get some email management system for people to sign up to your email newsletter. I already did a post on why I use Aweber.com so if you want to see why I use Aweber as my email management system and how to set it up check out this post here : —-> Selling Rap Beats Using Email Marketing 
---
You need to create an incentive for people to sign up to your newsletter for your hip hop beat site. People won't just sign up here to your newsletter so that you can sell rap beats to them every month. I just recently listened to a webinar with Clay Collins of leadpages.net who said that resource lists are the best thing to get people to sign up to your site.
Luckily for me, I had already thought of this as I give out the PDF of 70+ mixtape websites for any rap artist's that signed up to my site. It's use full and practical and doesn't require too much attention like an ebook or a video course. They only have one objective here, which is to add their mixtape to as many of these websites as possible.
---
Offering tagged rap beats is also a good option, but so many beatmakers do this that it's become a custom to rap artist's that the hip hop beats have the producers signature every 30 seconds. If the incentive was more remarkable to them, they might add the real email address to your newsletter as they might want to get the next thing you have to offer.
---
When you get artist's to sign up your email newsletter create a thank you page on your site where they can download the free beats. Don't just send them to a drop box link page as your missing out on the action that they can take while they are committed and engaged in your website and content.
On this thank, your page you have created add your Facebook Page "like box" at the top of the page where it's blatantly obvious to see. Record a video of you speaking directly to the camera thanking them for signing up to your newsletter. And upload the video to youtube where you can get an embed code for that video to add it to your thank your page.
My Thank you page 
(This creates trust a belief that there is some one operating the website)
---
---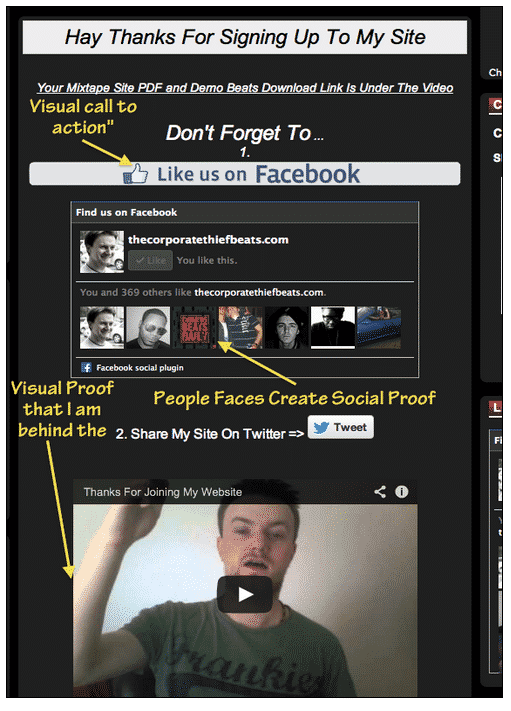 ---
---
As you can see from the photo
1. Call to actions both from the video and images and text
2. Social Proof craeted from previous likes
3. Proof that there is some one running the website
(Sometimes if you want something you just got to ask for it)
Then tell them what value they will receive for signing up to your site. This can include tips and tricks for recording or promo codes for cheaper beats. Upload the video on Youtube and embed the video on your new thank you page.
Once people join your website, they feel obligated to repay you for the incentive that they signed up for. This the perfect opportunity for you to ask them to do something for you.
---
At the end of the video give them a call to action and tell them to like your Facebook page. Place your download link for the free beats right next to Facebook Like Button as the will do both.
Because you made a thank you video it feels like you are speaking them then and there creating more authority from your voice to take action. I hope that you enjoyed this quick tip on how you can get your new subscribers to help push up your social media engagement levels.
---
While I believe that your email list is more important to help you sell your hip hop beats online, it's still good to add some social proof online by building up your social media profiles. This will create a trust for any new person that comes to buy beats from your website. 
---
---