Online Music Promotion Tool Tip #7 Promoting Your Music Using Social Locker
Social Locker is a user-friendly content locking plugin for WordPress that comes with advanced features and tools. This efficient plugin can lock your most valuable site content behind a series or set of social buttons until the visitor shares, tweets, or likes your page. Hip hop artists can use this application in improving the social performance of their website and be able to get more likes and shares. As a hip hop artist, you can rely on this plugin in your music promotion specifically when it comes to attracting more traffic from various social networking sites and building quality followers or fan base.
How Social Locker Helps With
My Online Music Promotion
In today's virtual society, it is quite difficult for an amateur hip hop artist to get more shares. One of them is the fact that they are not motivated to share or like your music. Or, you are not giving them enough reason to do so. And also, social buttons on websites are like ads, which means that there are users who just ignore them.
 
Another thing is, some visitors to your website tend to forget to share or like your content or music. These are some of the issues that hip hop artists may come across within their online music promotion. Good thing, Social Locker can address these problems with its advanced analytics, attention-grabbing and other impressive features.
[sociallocker id=3020]
[/sociallocker]
As an artist, you can use Social Locker and start driving social traffic to your website. With its features and benefits, this fantastic plugin is something to look forward to if you haven't tried its tools and features. This simple, easy to use tool can systematically drive social traffic to your website. It can automatically lock anything in your content and then unlock it once a visitor shares your page.
If you want to be successful in your online music marketing or if you are selling beats online, you can use videos, audio, download links, articles, coupon codes, images or just about anything that will serve as an incentive for your audience or followers. If you are still starting as an artist with a new website, it is quite hard to get followers and fans. With the help of Social Locker, it helps you make every visitor of your site as your follower. It has a particular feature that enables you to keep in contact with your audience or fans. As a result, it can help you build loyalty and a huge fan base.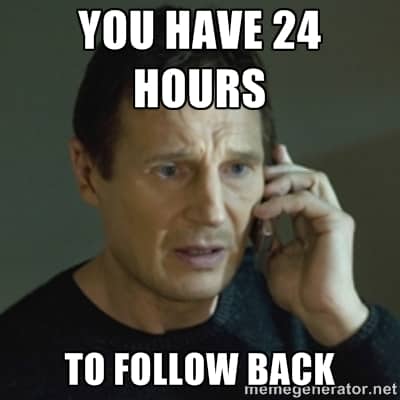 There have been various plugins that were created before Social Locker came into existence. However, users are impressed with this application due to its impressive, polished styles. They help attract attention and create interest.
They come with beautiful animation and design. Hip hop artists can benefit from this user-friendly plugin because it makes visitors stay on your page or site longer, aside from the fact that it helps you attract attention from your target audience. Social Locker offers social buttons for the seven primary social networking sites today, such as Facebook, Twitter, etc.
EXAMPLE OF SOCIAL LOCKER IN THE WORKS
[sociallocker id="1826″] CLICK HERE TO DOWNLOAD YOUR FREE PDF [/sociallocker]
Music Marketing Tool Tip #8 Promote your music with sniply 
One of the significant challenges you'll have as a beatmaker, producer or rapper is to promote your work online. There are a variety of online music marketing options you can use including YouTube, Twitter, Facebook and your blog. However, in a fast-paced industry, getting followers and potential buyers for your work isn't so easy unless you're already established. Even so, you need to keep promoting your work to remain relevant and continue to build your brand.
Today's marketing tooltip #8 promote your music with Sniply will talk about one of the most powerful tools I use to promote my beats online.
This is an online tool that I use to create short links to content I want to share on my social media platforms. It's a browser extension that works on the chrome browser. One advantage of using Sniply is that it will help you to create short links to any type of content be it a YouTube video or trending news in the music industry. It's a great way to share content with your social media followers especially if you don't have content of your own to share.
This option box appears on every website that you share using a sniply link

Besides creating the short link for sharing, Sniply also produces a small add on the page where the content you've shared resides. This ad will direct anyone who follows the Sniply link to the content to your website's landing or opt-in page. That's where you get to promote your work.
Unlike most tools I've talked about, I particularly like Sniply because the ad is displayed on every page of the website that I share on my social media accounts. This increases chances that the site visitor will click on the ad and be directed to your site where you can easily promote your music to them.
How to use Sniply For Online Music Promotion
The first step to using this powerful online music promotion tool is to sign up for an account. I recommend the free report for starters, but you can always go for the premium account if you want more features. There are three premium account options to choose from. Also, although you can use Sniply on its own, I recommend integrating it with Hootsuite. Hootsuite will enable you to share content to different social media platforms at once and also the time when to share specific content.
Sniply integrates with hootsuite and buffers app


Once your account is set up, log in to your user dashboard and follow these steps:
Click on the "manage" tab on the left side of your dashboard. Under this, click on "Sniply links". This directs you to the area where you can create your Sniply links. Click on the "new" button to create a new Sniply link. Some of the edits you can make on this area include adding the URL where you want visitors directed when they click on your ad's call to action button.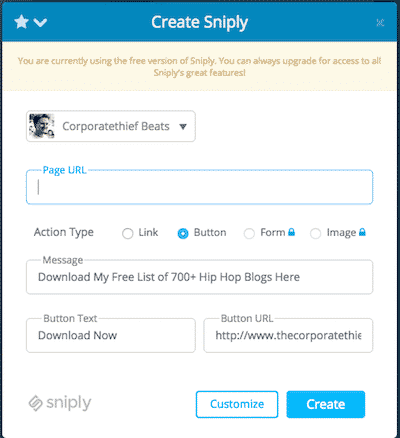 I recommend adding a link to your options page. The reason for this is that rather than merely direct visitors to buy or download free music content on your website, its best to capture their email address first. This way, you can promote new music content you create in the future. Other edits to make include uploading your photo or brand's logo, adding your call to action and editing your CTA button. Whatever edits you make.
Whatever edits you make in this area will reflect on your ad. After this, click on the "integrations" tab on the main dashboard. This will direct you to a new city where you can integrate your snips to a variety of apps and social media platforms as well as feeds. I recommend Hootsuite because it will incorporate Sniply to a variety of social media accounts at once and also helps you to manage sharing content online quickly. When you want to share music content, open the page where the material is and then click on the Sniply extension on your browser.
Chrome Browser Extension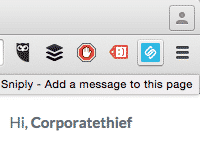 The Sniply extension will convert the content's URL into a Sniply URL. Hit post and the content will be shared on the social media platforms you have selected in the app integrations area. Once the content is shared, your social media followers can click on the link, view the content and your small ad displayed on the content page. If they click on the ad, they will be directed to your website where you can capture their email address or buy your music.
Music Marketing Tool Tip #9 Promoting Your Music With Copromote 
Music Marketing Tool Tip # 9 involves online music promotion through Copromote. Copromote is an online co-marketing tool that enables creators to share their content on social media sites by sharing other people's content. After signing up on the website using Twitter, YouTube or Tumblr, one earns reach points every time they share another creator's content. Once one has obtained Reach points, they can now share their content.
Copromote is an online co-marketing tool that enables creators to share their content on social media sites by sharing other people's content. After signing up on the website using Twitter, YouTube or Tumblr, one earns reach points every time they share another creator's content. Once one has obtained Reach points, they can now share their content.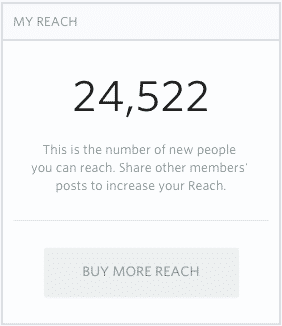 Copromote then matched you with people on the site with similar interests and trusted influencers who share it to their followers enabling it to go viral. For the sharing to be maximally effective, it is essential that you are very specific about the kind of content you are interested and the particular target audience.
The co-marketing platform has both free and pay-for levels. The free level limits the number of shares per day to ten and allows you to boost one post at a time. The paid for the account has an unlimited number of post shares and post boosts. Copromote is an excellent tool as it increases the reach of new content, including music releases and new mixtapes, on social media by increasing fan engagement.