Download Podcast Episode 11 Here
Podcast: | Download | Embed

Mixtape Marketing , Music Promotion and Building a Real Fan Base With
Hip Hop Blogger Phonenixstar9 Aka Tammy Johnson 
Tammy's  Links :
Follow Tammy On Twitter :Follow @PS9ONLINE_TIPS

Her Website / Contact : http://www.phoenixstar9online.com/
In the latest episode of the Mixtape Marketing Podcast episode 11 I am interviewing a very bright music marketing blogger from phoenixstar9online.com miss Tammy Johnson. Tammy is has been blogging online for along as I have been online which must be at least 8 years and she has always associated herself with helping other musicians getting their music heard online.
I first heard Tammy back in the old Roc-battle days of 2007 where she would interview successful online beat makers on Rocbattle.com. She cleverly got successful musicians to spill the beans on what works for them. So with episode 11 of the mixtape marketing podcast, I was super stoked when she agreed to join me on my podcast. Here I got her to share all the new music marketing information she has learned over the past few years.
Mixtape Marketing Podcast episode 11 Show Notes
Over at her website, phoenixstar9online.com Tammy's work ethic is very clear and can be seen from the time she has put in to helping underground artist's and placing them on the map for their first online exposure. Her mission is to help artist's think of the long run when they are online trying to promote the mixtapes. Showing them how to build a following and proper fan base.
–  In this podcast, we discuss a number of topics, such PRO's Ascap BMI SESAC, SoundExchange, Nelson BDS the collection of royalties paid to an artist from radio spins, and we dive into the use of tools like Facebook Graph search and how artists can use it to help find the right audience.
–  One of the first points we bring up is the importance of educating yourself when it comes to the collection of royalties. That is her experience with working with artist's she has
heard horror stories from artist who have lost income and royalties from songs that they never claimed or registered with the right music protection societies. 

– We speak about how important it is to start building an email newsletter and set up a website from day one.
–  Tammy also discusses the importance of radio when it comes to promoting your music too. That in 2015 online radio is a very big promotional tool that artist's can use to get the exposure to build that fan base. There are tons of internet radio sites online that will play your music for free and they have already built up an audience.
–  We talk about getting interviews on radio and internet radio stations and how important interviews are and how they will create credibility. How they make you more recognised as an industry professional rap artist.
–  How creating your own team will help you to be seen as a business and a professional rap artist. So that you can have a better business approach when you are reaching out to hip hop blogs and internet radio sites.
– How having some sort of representation like that of a street team or virtual assistants can help make it easier for you to make the connections that are need to get yourself on these blogs and radio stations.
–  What are the initial steps she takes when she is approached by artists that need her help when promoting their music online.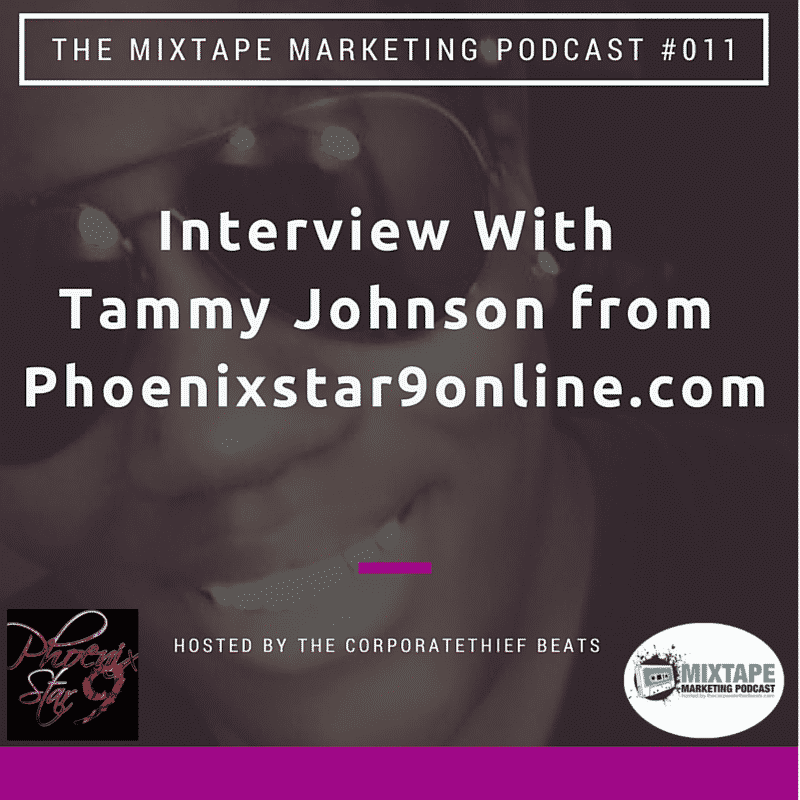 –  How rap artists and singers need to set up some goals and what they can achieve with their music .
–  How to capture data about your audience and study the data so that you cater to the people who will listen to you.
–  How lots of artists , record labels are using Facebook ads to target a specific audience similar to the music you make.
–  A Case study of where Tammy used Facebook Graph search to help and artist called Nikki Mcknight

– How to use Twitter effectively , the best time to post , using tools like buffer app , snip.ly , Hootsuite , Copromote , and hashtags. Optimising your time.
– That it's important to use your social media channels to build and email list and not to over rely on social media , that these social channels can change over time or disappear.
Why every artist should have their own website and their own blogs and the power behind these tools. 
– Why artist's should create contests and give-aways and create some mini documentaries about themselves and their music to add to the music promotion 
 Video Tutorial Created By Tammy How to Register your Music
with Nielsen BDS to track your RADIO Spins